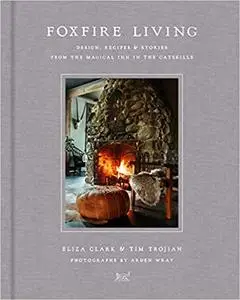 Foxfire Living: Design, Recipes, and Stories from the Magical Inn in the Catskills
Eliza Clark, Tim Trojian, "Foxfire Living: Design, Recipes, and Stories from the Magical Inn in the Catskills"
English | ASIN: B07H4Z6DGD, ISBN: 0062863231 | 2019 | AZW3 | 272 pages | 24 MB
A gorgeous full-color field guide to the innovative neo-vintage design style that is the hallmark of Foxfire Mountain House, the magical inn in the Catskills, bursting with design ideas, recipes, projects, and tips for achieving its dreamy aesthetic in your own home.
When designer Eliza Clark and her chef husband Tim Trojian viewed the property that would eventually become the Foxfire Mountain House in Mount Tremper, New York, the real estate listing was for an adjacent cottage; the teetering remains of what had once been a popular Catskills hotel was thrown in as a bonus.
Eliza and Tim set to work, radically redesigning the derelict property to create a relaxed bohemian retreat they called Foxfire Mountain House. The design and food of this transcendent inn is guided by nature, science, and curiosity, and informed by its rural location amid the bucolic mountains. The scenery is as much an element of Foxfire's design as the color scheme; the inn's old bones are complemented by unique vintage finds; and the meals are sourced from neighboring farms and local crops. Eliza and Tim's eleven-room inn, cottage, and bar room/restaurant became an instant hit and a hot destination for urban dwellers looking for an escape in the country.
Foxfire Living now brings the dreamy, rustic modern style that is the hallmark of this special place into any home. This lush guide is divided into chapters based on the phases of the day—Dawn, Morning, Day, Dusk, and Night—allowing you to move through each element of the inn's design and renovation process in a natural and holistic way. Whether you want to completely redo your home or just make a few changes or additions, you'll find thoughtful concepts and advice to guide you to:
• Discover—use the bones of your space to inform your design choices
• Gather—set up a design pantry and collect inspiration
• Evolve—allow yourself to stay open and curious as your design comes together
• Reflect—enjoy what you've built and share it with others
In telling the intriguing story of Foxfire's rebirth, Eliza and Tim include thirty recipes and renovation projects that capture its spirit. Brimming with ethereal photos that are as full of wonder as the drive up the hill that leads to the inn, Foxfire Living is the story of paint colors, light fixtures, materials, and furnishings. But it is also about writing your own home's story and creating a personal narrative that reflects your truest desires