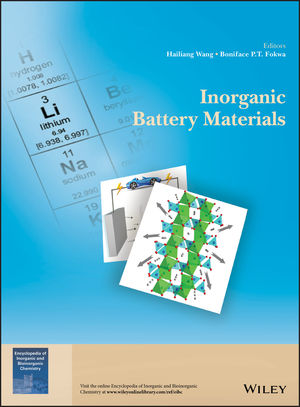 Inorganic Battery Materials
English | 2020 | ISBN: 1119431999 | 423 Pages | PDF | 46 MB
A guide to the fundamental chemistry and recent advances of battery materials
In one comprehensive volume, Inorganic Battery Materials explores the basic chemistry principles, recent advances, and the challenges and opportunities of the current and emerging technologies of battery materials. With contributions from an international panel of experts, this authoritative resource contains information on the fundamental features of battery materials, discussions on material synthesis, structural characterizations and electrochemical reactions.
The book explores a wide range of topics including the state-of-the-art lithium ion battery chemistry to more energy-aggressive chemistries involving lithium metal. The authors also include a review of sulfur and oxygen, aqueous battery chemistry, redox flow battery chemistry, solid state battery chemistry and environmentally beneficial carbon dioxide battery chemistry. In the context of renewable energy utilization and transportation electrification, battery technologies have been under more extensive and intensive development than ever.
This important book:
– Provides an understanding of the chemistry of a battery technology
– Explores battery technology's potential as well as the obstacles that hamper the potential from being realized
– Highlights new applications and points out the potential growth areas that can serve as inspirations for future research
– Includes an understanding of the chemistry of battery materials and how they store and convert energy
Written for students and academics in the fields of energy materials, electrochemistry, solid state chemistry, inorganic materials chemistry and materials science, Inorganic Battery Materials focuses on the inorganic chemistry of battery materials associated with both current and future battery technologies to provide a unique reference in the field.