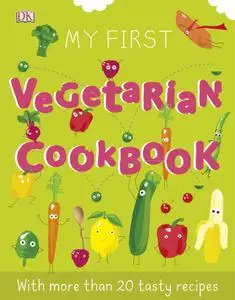 My First Vegetarian Cookbook
My First Vegetarian Cookbook by DK
English | January 2nd, 2020 | ISBN: 0241440564 | 82 pages | True PDF | 25.81 MB
A first cookbook for kids packed with healthy vegetarian recipes and nutritional information, this book will help children get busy in the kitchen and making delicious veggie dishes.
There are 25 vegetarian recipes for kids including quesadillas, smoothies, soups, and stir-fries as well as treats such as muffins and cheesecakes.
On top of the healthy and tasty vegetarian recipes, you'll earn about vitamins, minerals, and all the amazing things that colourful fruit and vegetables can do – from how carrots help your vision to why peppers boost your immune system. The delicious, healthy meals and nutrition facts are enough to satisfy any hungry young appetite, so grab your ingredients and whip up a vegetarian feast!