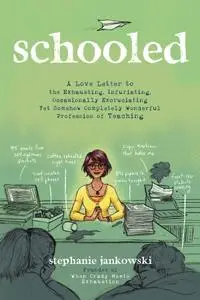 Schooled: A Love Letter to the Exhausting, Infuriating, Occasionally Excruciating Yet Somehow Completely Wonderful Profession of Teaching
Schooled: A Love Letter to the Exhausting, Infuriating, Occasionally Excruciating Yet Somehow Completely Wonderful Profession of Teaching by Stephanie Jankowski
English | December 17th, 2019 | ISBN: 162414876X | 224 pages | EPUB | 3.63 MB
Is It Possible to Love and Hate a Job at the Same Time?
In these hilariously frank essays, high school English instructor and popular parenting blogger Stephanie Jankowski throws open the classroom door to the victories, challenges and WTF-moments that make up being a teacher today— picture way less apples, and way more confiscated cell phones.
Anyone in education or who deals with kids for a living will laugh and commiserate with Steph's no-holds-barred commentary on lighthearted subjects such as being mistaken for a high schooler as a first-year teacher, accidentally saying the "c-word" in front of an assembly and navigating tricky student questions like "Are Trojan condoms named after those soldiers in the Odyssey?". You'll also nod along as she tackles more serious topics like race and education, the death of a student and teaching with empathy.
Required reading for every passionate, dedicated educator who's felt like banging their head against the blackboard, Schooled shouts: "I see you, fellow teacher…and you're not alone."