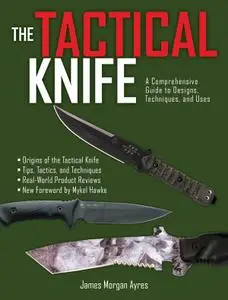 The Tactical Knife: A Comprehensive Guide to Designs, Techniques, and Uses
The Tactical Knife: A Comprehensive Guide to Designs, Techniques, and Uses by James Morgan Ayres
English | July 8th, 2014 | ISBN: 1628737018 | 272 pages | EPUB | 65.06 MB
Tactical knives are the fast-growing field of American bladesmithing. Now, in one groundbreaking volume, tactical knife expert James Morgan Ayres shares more than four decades of real-world experience with purpose-designed knives. You'll find it all in The Tactical Knife: fixed blades, folders, defensive uses, survival uses, product reviews—in short, everything you need to make an informed decision about your choice of a tactical knife.
Newly updated with specifications and reviews for new products as well as new information on recent developments in the field, James Morgan Ayres provides the latest need-to-know info on the subject for first time owners (or potential owners) of tactical knives as well as experts who want the latest intel on new products.
Features inside include:
• Origins of the Tactical Knife
• The Bowie knife
• Tactical Knives of the Mid-twentieth Century
• Steel, Heat Treating, Geometry, Design, Grinds, and Forging
• Choosing a Tactical Knife
• Basic Skills, Maintenance, and Tactics
Complete with hundreds of detailed color photos, tips, tactics, and techniques, The Tactical Knife is the best book out there for all your tactical knife needs. When choosing a tactical knife, don't guess—know! Keep yourself on the cutting edge—with The Tactical Knife!