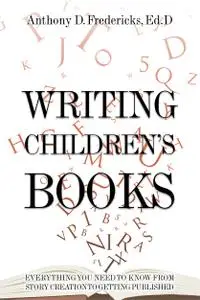 Writing Children's Books: Everything You Need to Know from Story Creation to Getting Published
Writing Children's Books: Everything You Need to Know from Story Creation to Getting Published by Anthony Fredericks
English | June 27th, 2019 | ISBN: 1681570815 | 306 pages | EPUB | 4.38 MB
Far too many prospective children's authors get stuck on the fundamental (and universal) question of all writers—Where do I start? That's simply because they're unsure about the nature of the children's book market and the skills necessary for literary success. Writing Children's Books answers the plight of these writers by providing proven strategies and insider information.
This powerful how-to guide shows, in eye-opening detail, exactly how children's authors, both beginning and novice, can have a productive and successful writing career. As the only book to deal exclusively with all the concerns, issues, and questions of prospective children's authors, it features simplicity, step-by-step directions; and offers strategies and data that guarantee literary success.
Written by award-winning children's author and writing instructor Anthony D. Fredericks, Writing Children's Books includes a plethora of techniques, strategies, and information to guide any potential children's author from blank sheet of paper (or computer screen) to viable, publishable manuscript.